Reducing your Cisco SMARTnet costs is easier than you think.
Many of our Cisco IP phone repair customers originally came to us when looking for an alternative to the high cost of Cisco's SMARTnet service. What we have been able to show them is that by repairing their Cisco IP phones on an "as needed" basis they can save over 50% of their SMARTnet costs.
How?
What we've seen is that most organizations are paying more for their SMARTnet contracts than what the repairs on their failed phones would cost. Check out our cost comparison.
Most organizations experience about a 3% annual failure rate with their Cisco IP Phones— less than the 4% we use in our cost savings model. In addition, we use a SMARTnet cost of $7.00 per unit   which is lower than most SMARTnet per unit costs. By using a higher failure rate and lower SMARTnet cost the model is stacked in favor of Cisco SMARTnet, however, take a look at the results….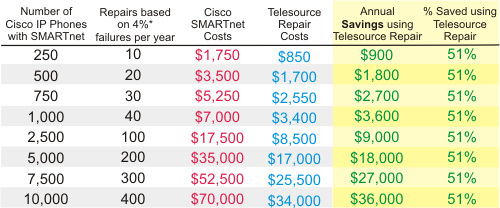 Even when favoring Cisco's SMARTnet in this analysis we can still show that most Cisco IP phone users should save over 50% on their Cisco IP phone repairs by going to "as needed" repair.
Repair is what we do best.
We have been repairing and remanufacturing phones for over 36 years. A phone from us isn't just repaired it is remanufactured to original OEM quality and specifications. Our industry-leading remanufacturing process ensures equipment from us looks and performs like new. And, we stand behind our products with a full one-year warranty.
The process is simple.
Give us a call. We'll connect you with one of our account managers. They can explain all the details and set you up with an account. Then when you have a phone you need to send in for repair contact your account manager and they will enter a repair order for you and send you a copy. Print a copy of the repair order, pack it with the phone(s) to be repaired and send the package to us. It's that simple.
Want to learn more?
Call us today and we'll answer any questions you may have about our Cisco repair services.
Ready to try our repair services?
Call us at 1.800.525.4300 and we'll get you in touch with an account manager who can start the repair process for you.