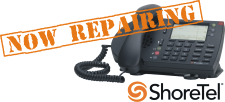 We are pleased to announce that we are now repairing Shoretel IP Phones and other Shoretel components!
The popular Shoretel IP phone system product line joins the list of over 50 other manufacturers of voice and data networking products that we repair for our customers.
Below is a list of Shoretel products we are now repairing. If you don't see the ShoreTel component you need repaired please give us a call as we may have recently added it to our capabilities. If we aren't already repairing it we'll add it to our future capabilities list.
SHOREPHONE DSS KEY EXPANSION MODULE BB24 (10174/10175)
SHOREPHONE IP110 (10176/10177)
SHOREPHONE IP115 (10216/10217)
SHOREPHONE IP210 and IP210A
SHOREPHONE IP212k (10198/10199)
SHOREPHONE IP230 (10196/10197)
SHOREPHONE IP230g (10267/10268)
SHOREPHONE IP265 (10218/10219)
SHOREPHONE IP420 (10439/10495)
SHOREPHONE IP480 and 480g (10496/10437/10497)
SHOREPHONE IP485g (10436/10498)
SHOREPHONE IP530
SHOREPHONE IP560 (10156/10148)
SHOREPHONE IP560g (10203/10204/10205)
SHOREPHONE IP565g (10220/10221)
SHOREPHONE IP655 WONDERPHONE or ANTI-GLARE TOUCH-SCREEN (10368/10429)
SHORETEL SATELLITE MICS FOR IP655 (10401)
SHOREPHONE CONFERENCE UNIT IP8000 (10274/10277)
SHOREGEAR SERVICE APPLIANCE 100 (60125)
You can trust us with your repairs. We have been repairing voice and data networking equipment for over 36 years. Our industry-leading remanufacturing process ensures equipment from us looks and performs like new. And, we stand behind our products with a full one-year warranty. All testing and repair is performed at our state-of-the-art depot repair center in Bensenville, Illinois by trained and certified technicians. Our repair and remanufacturing processes are in compliance with original manufacturer specifications and subject to rigorous testing throughout the process.
We have won numerous awards for quality repair, including the Verizon Repair Vendor of the Year and the Teleconnect Refurbishing Excellence Award and we are TL9000 and ISO9001 registered.
For ShoreTel repair, or any other phone equipment repair, give us a call at 800.525.4300.